This is 'EDIT'
a strategic EV, engineered and cost optimized for
MaaS  (Mobility as a Service) 
providers, now with battery swap
Story
Since our debut at Y Combinator (W16) in Silicon Valley, we've had ongoing and constant conversations with thousands of people around the World, excited to learn more about TABBY EVO.
Despite its simplicity, TABBY started a revolution, empowering entrepreneurs to start their own companies, brands, and EVs, but most wanted more. So in 2016, we started working on a new project in stealth mode, crunching all the data and feedback we received. We proudly present you with 'EDIT', a data-driven project, based on all the feedback we received from our community.
We realized that many companies and startups want to enter the New Mobility industry to provide solutions that big car manufacturers cannot, but…
For most the time to market is too long (even once we reduced it in half with TABBY EVO)
The investments of some millions of USD is not feasible for many companies
Customizing the vehicle is a necessity, not only for branding but also for specific features for services and advanced ones like connected car and self-driving
Services are growing, but most transportation-related services are struggling to be sustainable financially and environmentally because they employ traditional vehicles, vehicles not designed and engineered for their specific services, that often under heavy usage breaks in less than 2 years
Self-Driving startups are struggling with reverse engineering and to cost-effectively integrate the newest technology into the closed design of cars already in the market.
'EDIT' provides a solution to all of these problems.
How are we doing it?
We went back to Europe, talking to our friends and partners who are working for the biggest auto OEM for decades, thinking how to make a future-proof car from your precious feedbacks.
And here it is… please say hello to 'EDIT'
This white-label, self-driving "Vehicle as a Service" means companies could quickly create models tailored for each service and country. In other words, it's taking advantage of the move towards food delivery, ride and car sharing, which means vehicles would tailored to the application, not the car brand.
The EDIT is ideal for ride and car sharing, since it is modular, customizable and upgradeable to prevent obsolescence – a problem with today's ride sharing vehicles, which only last about 2 years on average.
This is one of the most interesting and complete visions of a vehicle in New Mobility I have seen and gives a real flavour for what our personal mobility will look like in the future.
We see the potential of a unified modular vehicle for the future of mobility as a service, that will allow car fleets last 10X longer under heavy usage conditions like car and ride sharing and enable hardware upgrade of self-driving, connected car technologies seamlessly.
Design
'EDIT' is designed for the future, five parts define the whole volume so everyone can easily have more configurations of the same vehicle both in terms of use, style, and recognizability. The intention was to create a "non form", a blank sheet of paper, where people can develop their own ideas. Because design must not be an imposition but a participation.
a Self-Driving car for everyone
Our modular technology allows you to easily embed several autonomous driving technologies from level 0 to 5
it's a BYOSDCACH
Bring your own self-driving code
and custom hardware stack (lidars, sensors, CPUs,etc…)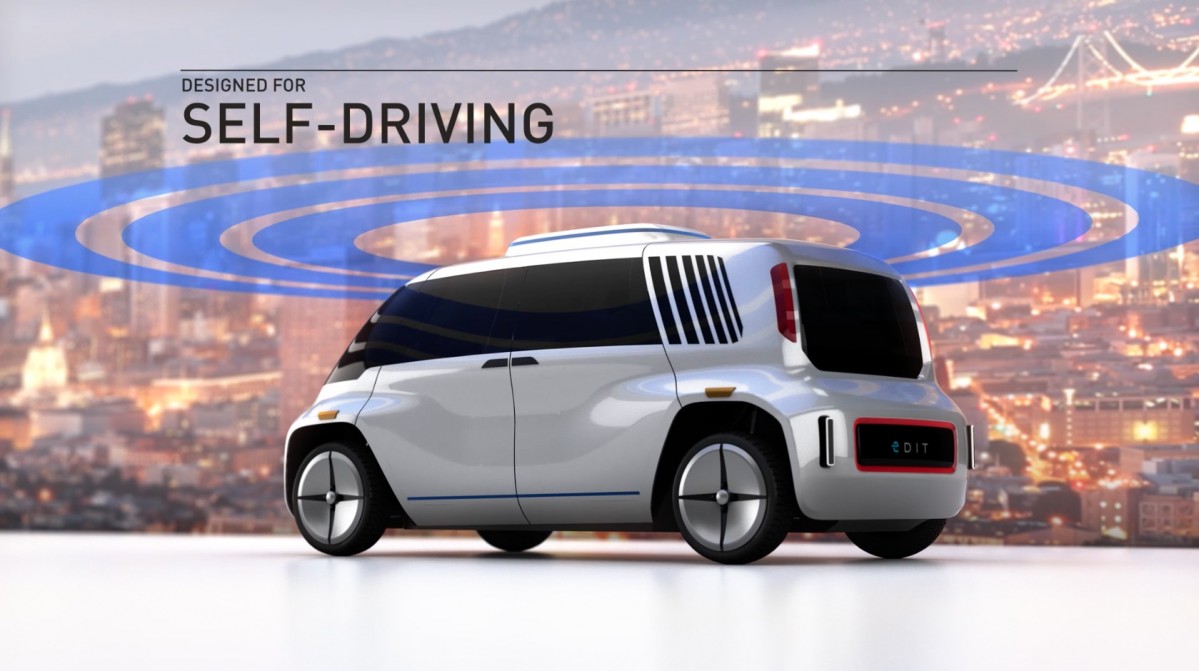 Fleets can last 10X longer
Designed & engineered for services
Lightweight
Modularity allows replaceability
and upgradability of self-driving & connected car hardware stack
Fleets can last more than 20 years
Lowest TCO (total cost of ownership) financial and environmental impact
EDIT's modular technology enables the easy replacement of key components such as electric motor and battery pack, which allow vehicles to last 10X longer than traditional cars.
In white-label
every company can put their own brand on the vehicle, can customize the exterior body and interior and keeping the road legal certification. This white-label, self-driving 'Vehicle-as-a-Service' allows companies to quickly deliver models tailored for each service and country. With the rise of food delivery, ride and car sharing, vehicles should focus on the service brand and its needs, not the car brand.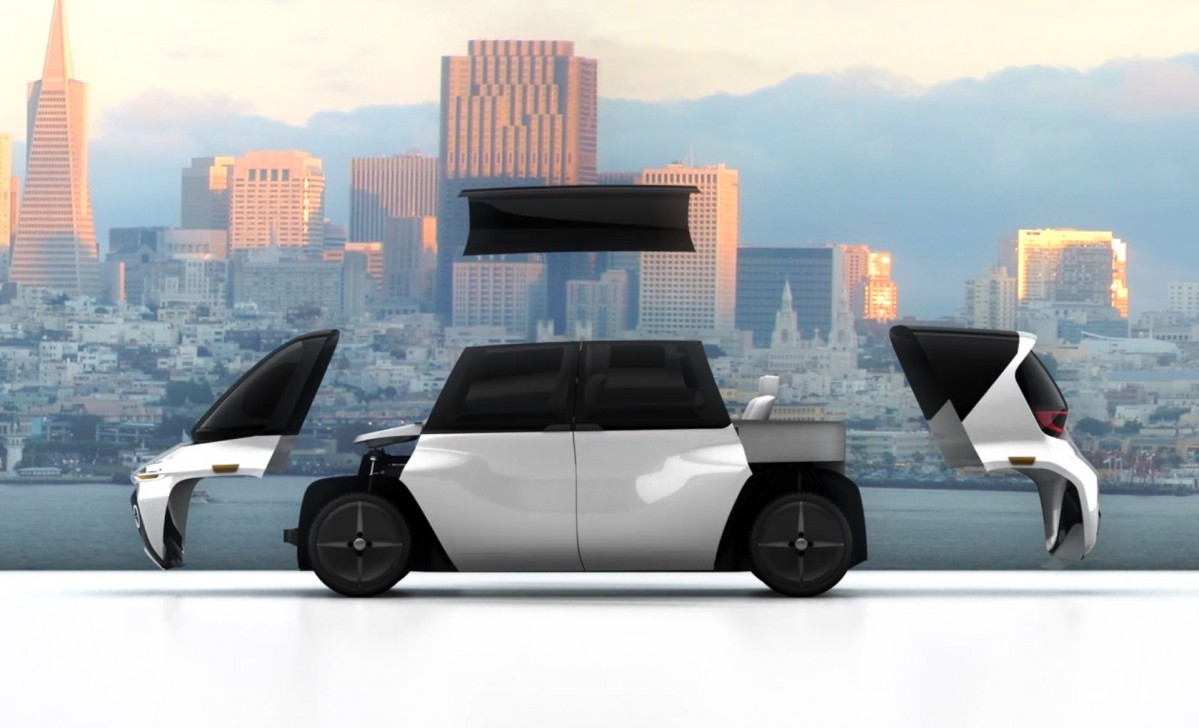 Extremely customizable outside

The body is divided into 5 main parts, 4 moulds (front, rear, roof and double symmetrical door), optimizing production and decreasing costs.
A friendly shape, easily transformable according to the needs of the customer that could help the transition towards a different layout of the autonomous driving cars of the future. Easy to repair and upgrade to transition faster to a zero emission and zero fatality mobility.
and inside
The interiors can provide different settings from level 1 to 5 of autonomous driving. In a level 5 version, there is a "vis a vis" seating layout with a comfortable table in the central area without steering wheel where you can work while the vehicle is driving you from A to B.
It's open & modular
Companies can develop modules for 'EDIT' and make them available to the community.
We encourage them to share the source.
Open Motors' mission is to accelerate the transition to advanced technology in mobility, by enabling companies to develop seamlessly modules easy to integrate into an open and versatile vehicle.
Pricing and specifications
Today we revealed the main design and features of EDIT. Pricing and more detailed specifications will be available soon.
Please fill the form below to receive more information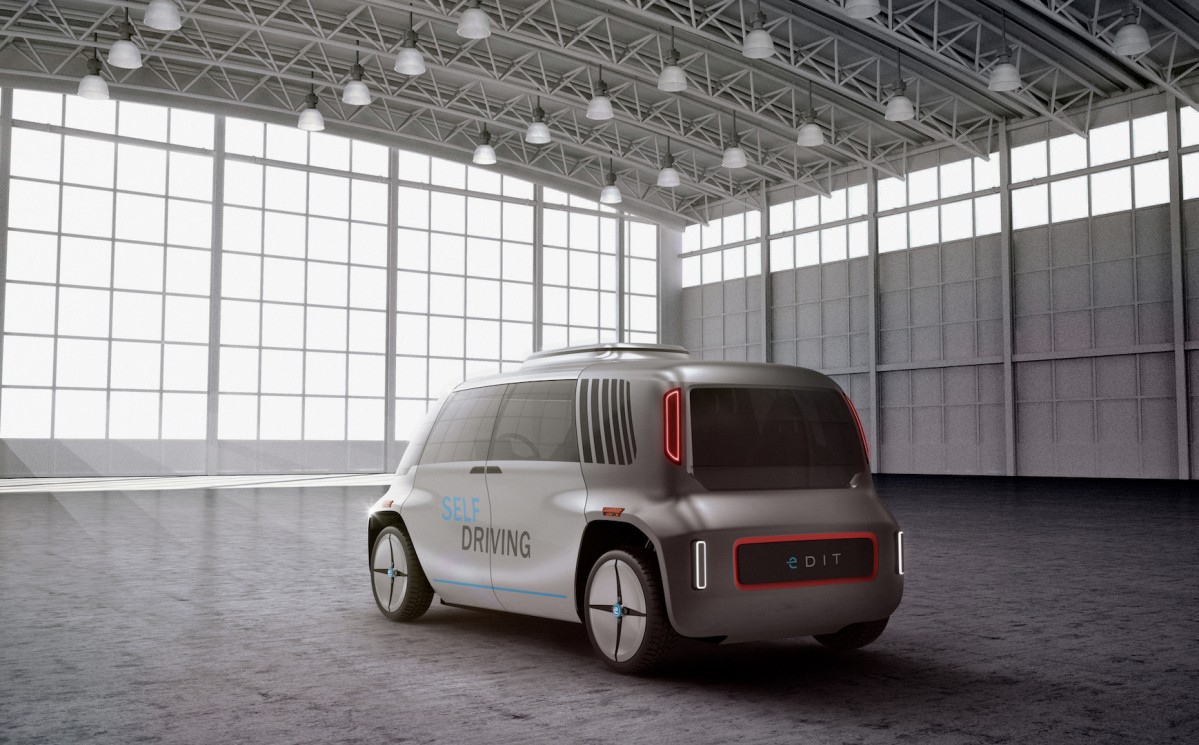 Sign up to receive future communications:
Please fill this form to sign up via email ✉️  to receive future updates
[contact-form-7 404 "Not Found"]
CAMAL: Design firm from Turin Italy, style and 3D modelling services from Italy, working with well-known car companies and design centre
Press Kit about Circular Economy, G7 Transport, IMPACT Growth